HOW TO PLAY POTATO PIRATES: BATTLECHIPS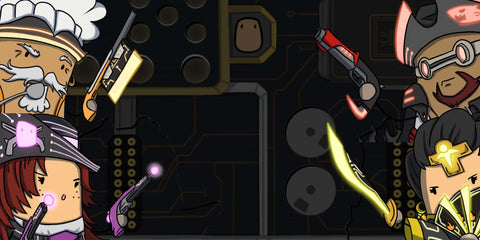 Prepare yourself for the greatest war in the history of Carbobbean Seas
Potato Pirates 3: Battlechips is one of the best programming games for kids and adults. It is packed with coding concepts and covers a great breadth, depth, and variety of complex coding principles. Play to learn Computer Science and Cybersecurity concepts. Who knew learning to code could be so much fun?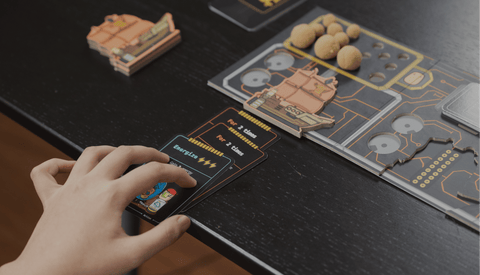 HOW TO WIN THE GAME
There are 4 ways for you to win the game: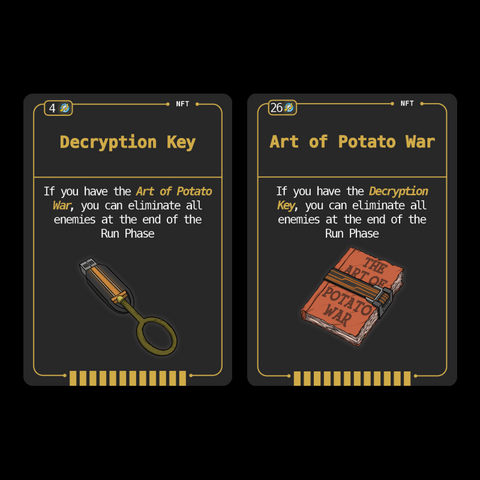 Obtain 2 NFTs cards: Art of Potato War & Decryption Key and survive till the end of the Run phase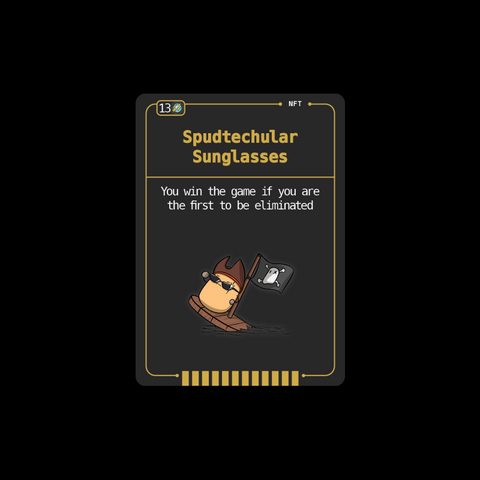 Get the NFT Spudtechular Sunglasses. This card allows you to sneakily win the game if you are the first to be eliminated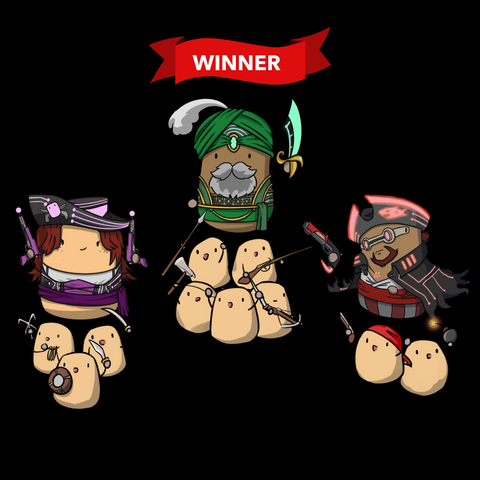 Have the most crew when the Battlechips deck runs out
Eliminate all other players by bringing their crew to 0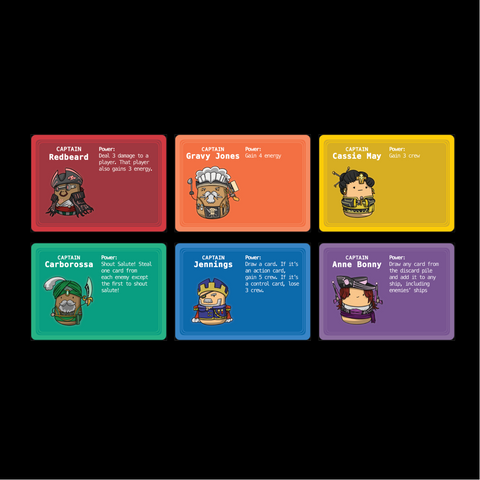 01. Pick Your Captain Character
Shuffle & randomly pick 1 captain card
02. Setup For Each Player
1 set of 10 Power cards as per your Captain's color, 20 crew, 1 ship and 4 Battlechips cards in hand:
- Upgrade
- Zap
- Energize
- Dig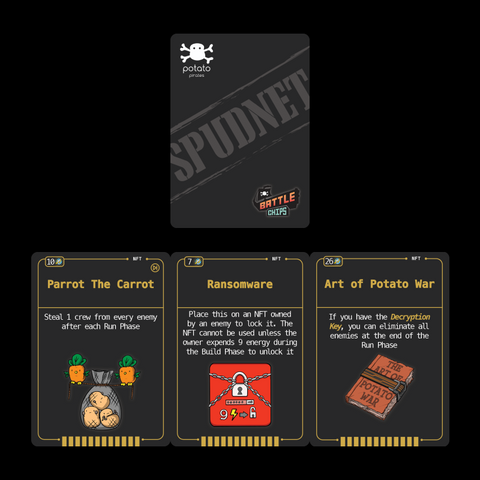 03. Setup The Spudnet Deck
Shuffle all cards and reveal the top 3 cards from the Spudnet deck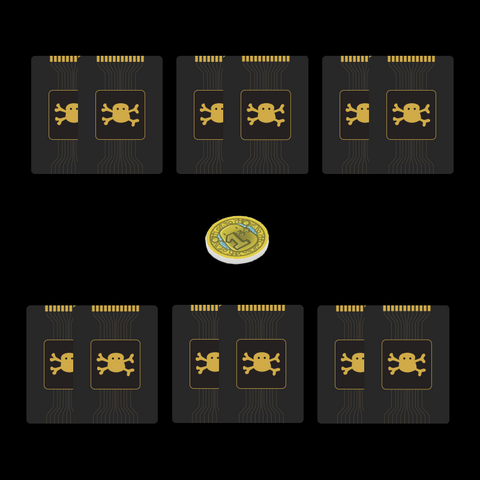 04. Hand Out Cards & Pass The Starting Player Token
Deal 2 cards from the remaining Battlechips deck to each player and then pass the Starting Player token to the chosen starting player
PLAYING A ROUND
There are no restrictions on the number of rounds played in this game. The game ends when a player wins the game. A round consists of 3 phases: Build Phase, Power Phase, and Run Phase.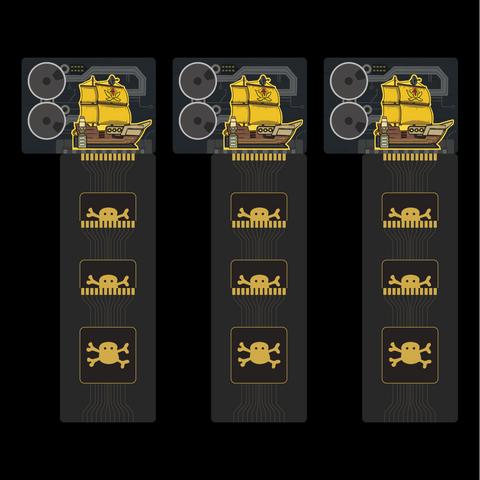 01 Build Phase
Players build their ships at the same time. You can have a maximum of 3 ships & 3 cards under each of your ships. Once done, discard cards until you have 8 or fewer cards in your hand.
02 Power Phase
Players reveal the cards under their ships. See the cards below each player's ship(s) and strategize who to attack or sabotage. Then, choose one Power card and resolve each player's Power.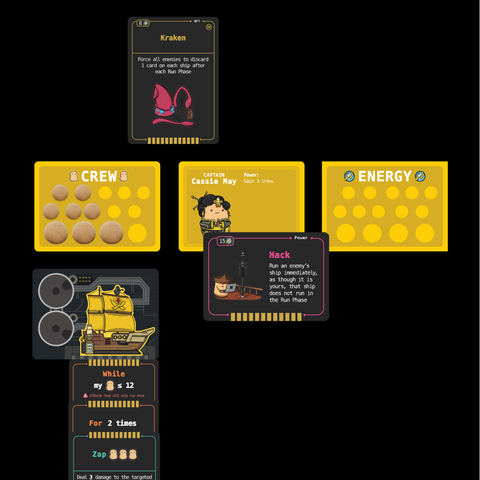 03 Run Phase
From the starting player, take turns to run ship(s). Starting from your left-most ship, run and resolve the effects of the cards below your ships in sequence. After running all of your ships, you may purchase 1 NFT.
Cards are NOT DISCARDED after the run phase. They return to your hand.
BEFORE STARTING THE NEXT ROUND
End Of Round Effects
After every player has played their turn, resolve the effects of all Spudnet cards with the End of Round indicator (see instructional booklet), starting from the cheapest NFT.
New Starting Player
Pass the Starting Player token to the player with the LEAST crew. The player order will always follow suit in a clockwise fashion. Don't forget to return all the cards on your ships back to your hand.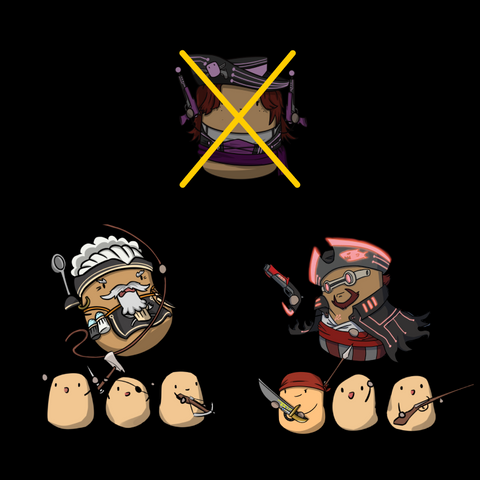 Player Elimination
If you run out of potato crew, you are eliminated. Give all cards in your hand and your NFTs to the player who eliminated you. All cards on your ships and all your energy are discarded.
Build Phase
How many cards should I have on my hand at the end of the build phase?
Excluding the cards that have been placed on your ships, you should have a maximum of 8 cards in your hand at the end of the build phase, before the start of the Power Phase.
Can I build a ship combination with 2 Recurse cards?
You ship will always fail to run when you have 2 recurse within 1 ship as there are not enough upgrade tokens to run the code.
Power Phase
If Player 1 plays Hijack on Player 2 but Player 2 played Deny, is the Hijack successful?
Hijack is not successful. This play is all about trying to read your opponent and what their most likely strategy might be.
If Player 1 plays Hack on Player 3, can Player 2 play Hack on the same ship?
Can Player 1 use Hack on an enemy ship to kill himself to win using the effects of Spudtacular Sunglasses?
As hacking runs that ships as your own ship, you are unable to kill yourself as you are not your own opponent.
Run Phase
Do we discard our cards under the ships at the end of the Run Phase?
No, unlike Potato Pirates 1, we do not discard the cards under the ship at the end of the round. The cards go back into your hand and you can rearrange them during the build phase.
What happens to the cards that are placed on ships after they are run?
The cards on ships aren't discarded and are returned to your hand
NFTs
Does Ransomware count towards the 2-item limit for the Player who bought it to use it on another player?
Does the owner of the locked NFT need to spend 9 energy every round, or one-off payment to discard the Ransomware NFT?
It's a one-off payment, just like how cyber criminals release your files after you've paid the ransom.
Are Spudtechular Sunglasses meant to be kept hidden?
There's no need to hide it. You can still win with Spudtechular Sunglasses, even if you reveal it.
Kraken (with a sign) vs Baby Kraken (without a sign), which one will be resolved first?
Resolve those with EOR signs first! If you go by the "cost rule" you will resolve Kraken before Baby Kraken.
Why does Baby Kraken not have the End of Round symbol?
This is our mistake😣Baby Kraken should have the end-of-round symbol just like Kraken, Parrot the Carrot, and Great White Spud.