Potato Pirates Super Spud Bundle
Get hold of two of our STEM games and cute plushies at a discounted price
The New Super Spud Bundle includes:
1 x Potato Pirates: Battlechips Exclusive Kickstarter
1 x Potato Pirates: Enter The Spudnet Board Game
1 x Great White Spud Plushie Keychain
1 x Parrot The Carrot Plushie Keychain
Are you looking for games that are both fun and educational? This bundle packs with strategic games which let you explore computer science concepts & practices.
Battlechips Exclusive Kickstarter
While immersing yourself in the game, you'll be introduced to advanced programming concepts. Choose your captain character, strategize to build your ships, choose power, and run your attack!
Enter The Spudnet
Dive into the internet realm and complete missions by deploying and dodging cyber attacks. Employ different strategies to block or sink your enemies' ships and be the first to deliver 5 potato orders through the spudnet.
It's time to challenge your family & friends and liven up your game night with our best educational games!
Potato Pirates: Battlechips - Kickstarter Exclusive
Age 9+ | 6 Players | 30-60 Minutes
Potato Pirates 3: Battlechipsis a strategic card game with an exciting gameplay experience where youzap potatoes for energy,dig for sunken cards, andfortifyyourself with powersandabilitiesto defeat enemy factions across the Carbobbean Seas.
What is in the game:
12 unique captain cards
6 sets of 10 power cards
1 single-side printed token
108 Action and Control Cards
22 Spudnet Cards
30 Large crew tokens
70 small crew tokens
30 Large energy tokens
70 small energy tokens
36 upgrade tokens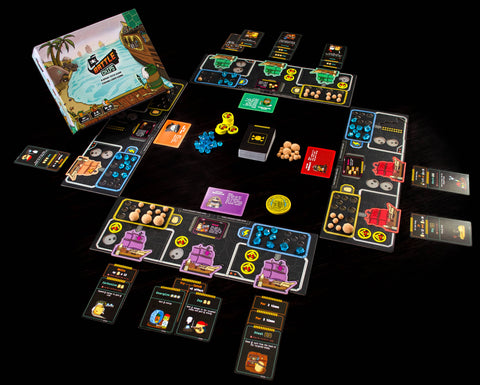 Enter The Spudnet Board Game
2 - 6 players | Ages 10+ | 30 to 60 minutes
Explore how the internet works through a board game! Our STEM board games visualize and decipher the networking and cyber security concept in just 1 hour of playing. Perfect board games for kids as well as adults.
While playing our family board games, you will be exposed to cybersecurity concepts such as firewalls, malware, botnets, and many others. These concepts are introduced in a fun byte-sized game so that everyone can enjoy playing. It's a suitable choice for board games for kids to play on a game night.
What's inside our STEM board games:
- 3 x Zone Series cards
- 3 x Roulette series cards
- 3 x Malware series cards
- 3 x HTTP Error Code Series Cards
- 6 x Upgraded Faction Tokens
- 1 x Game map
- 2 x Game mode (Player vs. Player & Co-operative)
How To Play Enter The Spudnet